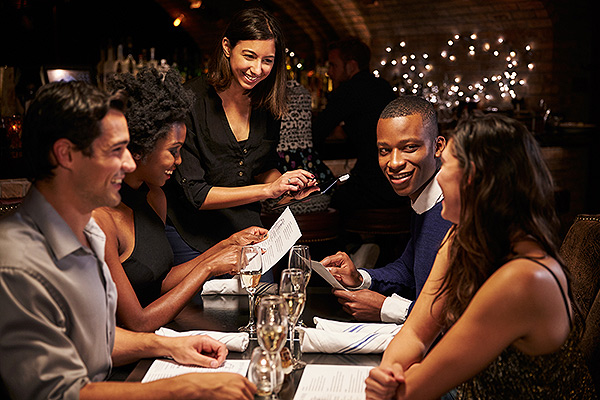 What do I expect? Let's say I walked into your restaurant tomorrow, what would I expect from your staff:
Top 12 Expectations
Friendly staff, well groomed and armed with a good attitude.
Seated at a CLEAN table.
A timely greeting to take my drink order.
The server to be knowledge about the menu in case I have questions.
Updates on my food order if it's taking longer then 15 minutes.
THIS IS A BIG ONE FOR ME - If the refills are free, I expect my drink to never sit empty.
The server to check in a couple of times during my meal.
The table to be cleared when our meal is completed, offering to box up anything I didn't eat.
NOT to be presented with the check until I've been offered a dessert and an after-diner drink.
The check to be processed quickly.
The server not to disappear after the check is processed. I may not be in a hurry and want another refill while I talk.
A "thank you" for my business and someone asking me to come again.
There it is, my minimum expectations for good service. The check amount won't be maximized but I would consider the server to be an above average order-taker by meeting these 12 expectations which would warrant a 15% tip.
Remarkable Service
Now getting a 20% tip will be more of a challenge. The server will have to surprise me with "Remarkable Service" for that kind of reward. Here are some of the things I would be looking for:
Greet me by name. Talk about brownie points!!!!
Get my drink to me before I've been sitting a total of 1 minute. Understand timing for all of the service cycles.
Offer me choices for appetizers instead of just asking if I want any appetizers.
Offer a couple of house specials and create an image of those specials for me.
Guide me when I am not sure what to order.
Bring me a new glass for my refill before the old one is empty, without me asking or noticing. Anticipate my needs and provide Invisible Service.
Use more imagination then "Did you save any room for dessert" when offering dessert.
Tell me to "ask for you" the next time I come in.
Assist me when I'm leaving and again say goodbye and thanks for coming.
Remarkable Service takes a structured training program and plenty of practice but this is what I expect from a great server-seller that wants to make a 20% tip on a maximized ticket. Provide "Remarkable Service" and I will keep coming back!
---

Jeff Hookham is the CEO of 4 Remarkable Service. Visit http://www.4remarkable.com for additional articles and resources on wait staff training.