Female Culinary Leaders Give Advice to the Next Generation for International Women's Month
publication date:
Mar 27, 2023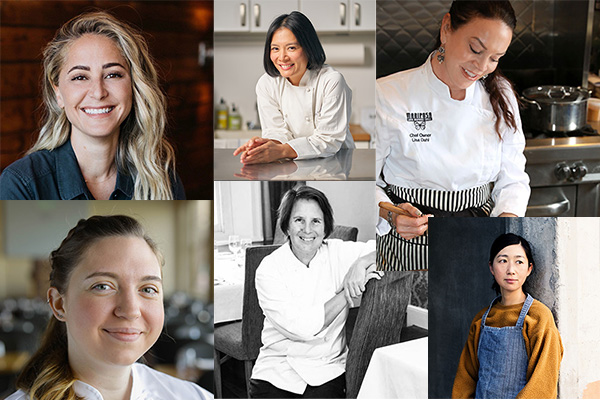 (Editor's Note: Originally published in March of 2022)
In honor of International Women's Month March (and International Women's Day), we've rounded up advice from successful female chefs and leaders for those who aspire to work in the culinary sector.
These words of wisdom make for great advice for women in restaurant, hospitality or culinary careers.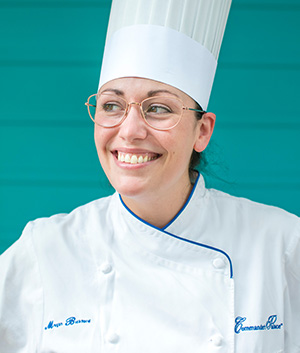 Meg Bickford, Executive Chef of Commander's Palace
Location: New Orleans, LA
About: Chef Megan "Meg" Bickford has called the Commander's Palace kitchen her culinary home since June 2008 and took on the role of Executive Chef at the New Orleanians' destination for leading edge Haute Creole cuisine in October 2020. With over 12 years of experience with the Commander's Family of Restaurants, Chef Meg previously served as the Executive Chef of Cafe Adelaide, the Commander's family's playful, modern Creole restaurant. Meg is a Louisiana native.
Advice: "When starting out in this business, you need to be a sponge…and want it badly. I liken being a chef to being a professional athlete: you have to be dedicated, always practicing and honing your skills, and willing to push yourself to your limit. We have a motto at Commander's Palace which I think sums it up: "Do not suffer the curse of low expectations."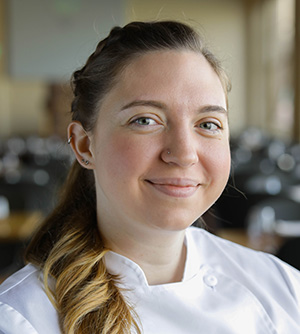 Katie Reicher, Executive Chef of Greens Restaurant
Location: San Francisco
About: Katie Reicher is Executive Chef of legendary Greens Restaurant in San Francisco founded in 1979. With a comforting, seasonal, and wholesome food philosophy, her service style at the iconic vegetarian destination is warm and familiar—she believes everyone who visits Greens should be treated like family.
Advice: "Know your value. Several times throughout my career, I have experienced gender discrimination. I once was told that I had made the worst vinaigrette that my chef had ever tasted. The same day, he threw my risotto pan against the backsplash of the kitchen and said I was hopeless. The next day, another line cook took my same vinaigrette, without making adjustments, to my chef to taste and he was praised for such great work….There will always be people who don't or won't see your value, and that's ok. The industry is changing, and you no longer need to put up with people and restaurant cultures that will actively mistreat you. Know your value; don't accept a job that will underpay you or mistreat you just for a resume boost. Bring your talents to a high-performing place that will pay you what you are worth, appreciate you, and value your contributions to their team."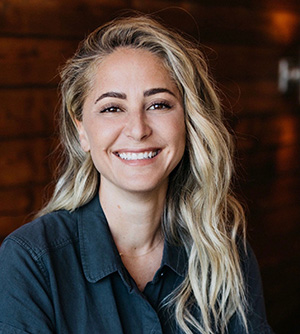 Brooke Williamson of Playa Provisions
Location: Los Angeles
About: Born and raised in Los Angeles, Chef Brooke Williamson has carved out an impressive résumé full of leading roles and professional achievement, such as being the youngest female chef to ever cook at the James Beard House, winning Bravo's "Top Chef" Season 14 in Charleston, and most recently, being crowned the first winner of Food Network's "Tournament of Champions" in spring 2020. Along with her husband and business partner, Nick Roberts, the two debuted a unique four-in-one-concept in 2014, Playa Provisions, featuring a grab-and-go marketplace, King Beach; an artisanal ice cream shop, Small Batch; a seafood dining spot, Dockside; and an intimate whiskey bar, Grain. During her day-to-day operations, she works alongside Roberts creating new menus and running the front and back of house, takes her chef talents on the road to local and national food events and festivals, and regularly participates in philanthropic efforts with No Kid Hungry.
Advice: "It's all about experience, and there's no way to get experience without diving in. There are so many hats to wear that if you're not incredibly passionate and excited about what you're doing, then giving up is the easiest thing. Expect the unexpected and know there will be bumps in the road and days you want to give up. A lot of people are getting in the industry because they think it's exciting on its own. From my experience, the most important things are understanding a lease, location, and audience."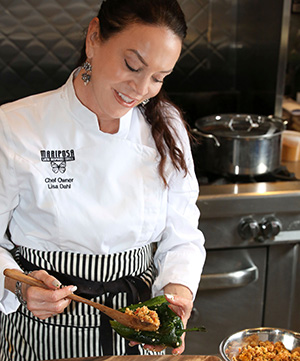 Lisa Dahl, Chef Owner of Dahl Restaurant Group
Location: Sedona, Arizona
About: Chef Lisa Dahl is one of the country's leading female chefs and restaurateurs who has pioneered the culinary scene in Sedona, Ariz. for more than 25 years. Dahl is the executive chef and CEO of five outstanding restaurants in Northern Arizona's red rock country where she has earned international acclaim for Dahl & Di Luca Ristorante Italiano, Cucina Rustica, Pisa Lisa, Mariposa Latin Inspired Grill, and Butterfly Burger, A Couture Burger Lounge. She is the author of two cookbooks: A Romance With Food and The Elixir of Life
Advice: "Women still have to jump through more hoops than men and being recognized as a woman chef is more difficult than a man. I say this with no malice, just truth. It's still a man's world when it comes to the kitchen. Don't be easily discouraged because you'll be more supported by women than you realize. Try not to be thinned skinned, as a 26-year veteran working in kitchens, a women's voice is still harder to be recognized, so you have to work harder. Tenacity is what will make you get up every day and help you achieve your goals. Be realistic that there are more men than women. We are gaining strength and recognition. Be courageous. Don't be angry. Be the best you can in every way and stay focused, keep your eyes on your goal. At the end of the day, you'll shine like a diamond because even though you had to work harder, you will stand out brighter."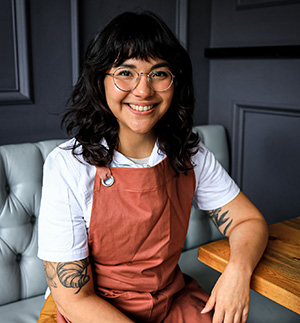 Natalie Morales, Executive Pastry Chef of The Kitchen Restaurant Group
Locations: ND streetBAR (Boulder, Eastbridge, Fort Collins, Denver and Indianapolis); The Kitchen American Bistro (Denver, Boulder, Chicago)
About: Natalie Morales is the Executive Pastry Chef for The Kitchen Restaurant Group. As a first-generation American, she has a love for incorporating the flavors she grew up eating into her desserts. Her specialties include all things bread, viennoiserie, and creating new flavor combinations not commonly seen in desserts.
Advice: "If I could give 19-year-old me one piece of advice it would be: "don't wait for an opportunity to become a part of the conversation. Make those opportunities happen, speak up, and don't be afraid to speak loudly. A cookie a day also helps too."

Garrette Bowe, Chef de Cuisine at Grand Hyatt Baha Mar Marcus at Baha Mar Fish + Chop House
Location: Nassau, Bahamas
About: Born and raised in Freeport, Grand Bahama, Chef Garrette Bowe is the Chef de Cuisine of Marcus at Baha Mar Fish + Chop House, where she executes consistent high-quality service and cuisine due to her knowledge of local gastronomy, experience in developing creative menus, and proficiency in leading professional kitchens. Prior to her time at Marcus, Chef Bowe was the Sous Chef for the new Shima at The Island House before later joining the Grand Hyatt Baha Mar team as Sous Chef for on-site restaurants Café Madeleine and The Palms.
Advice: "Confidence. Confidence was something I struggled with at the beginning of my career, and to be honest it's something I still haven't fully embraced. In an industry where most people in leadership don't look like you, there's a feeling of being an imposter. In my entire career I've worked with only one female chef as a superior, so there's not much representation of women in the industry. However, from her I learned to lean in, in my confidence. It's important to know your worth and value and the respect that comes along with it. Commanding respect for yourself and being sure of who you are and what you bring to the table." "Putting in the work. Never stop working on your craft. In an ever changing industry, with new trends and traditional techniques, the culinary industry is always expanding. There is always something new to learn, try or experiment. Working with new ingredients, learning new and old techniques, honing in on your craft. Continually fall in love with food throughout the journey."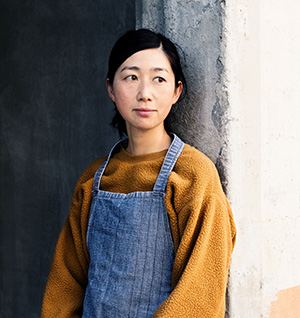 Kuniko Yogi, Executive Chef and owner of Pikunico Japanese fried chicken
Location: ROW DTLA, Los Angeles, CA
About: Kuniko forged a unique path to a bright culinary career, growing up in Maebashi and embarking on a traditional route to the structured world of banking. This brief stint in finance led to the realization that her rebel heart yearned for a true creative outlet. She departed her native Japan for Los Angeles and began working for Chef David Myers of the Michelin-starred Sona. She rapidly advanced through the ranks, later serving as Executive Chef of Myers' brasserie, Comme Ça West Hollywood, opening its second location at The Cosmopolitan of Las Vegas before heading up the kitchen of the award winning Hinoki & the Bird in Century City. Pikunico at ROW DTLA is her first solo venture.
Advice: "To stay in the culinary industry as women my biggest piece of advice is to stay on it, be persistent, and never stop. Those people make it whether you are a man or a woman. The continuous effort will take you wherever you want to go!"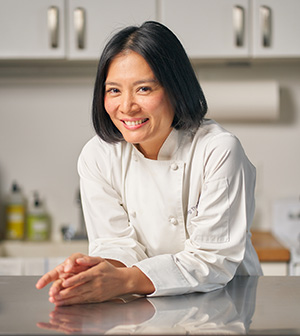 Hong Thaimee, Owner and Chef of Thaimee Love
Location: New York City
About: Originally from Chiang Mai, Thailand, Hong Thaimee is a chef, entrepreneur, and philanthropist who has served as a global ambassador for Thai cuisine and culture for nearly a decade. After successful careers as both a model and business executive in Bangkok, Hong felt drawn to pursue a more personally meaningful path. Now one of the most visible faces of Thai food in the US, Hong debuted her permanent new restaurant, Thaimee Love in October 2021, in New York's W Houston Street, specializing in "Baan Baan" cuisine, replicating the comforting, home-style Northern Thai dishes.
Advice: "Keep on learning and be teachable. That way you can be the best cook/chef you can be. Get to know who you are and make sure that you know why you want to be in this industry. So when amazing days come you can enjoy it to the max and on the dark days, you can find the tune in your heart and find the strength and courage to keep on pursuing your dreams. It is not a sprint or a race. It is a journey. Good luck!"

Maya Kaimal, Award-winning Cookbook Author and Founder of Maya Kaimal Foods
Location: Rhinebeck, New York
About: Maya Kaimal is the founder of Maya Kaimal Foods, winner of the Julia Child Award for her cookbook Curried Favors, Family Recipes from South India, and former photo editor of Saveur magazine. Raised by two talented cooks--an American mother and Indian father--Maya's father's roots in Kerala have been a source of inspiration for her. She has written extensively about South Indian cuisine in magazines and cookbooks. In 2003, she and her husband launched her line of Indian products from their Brooklyn apartment. Her goal was to use quality ingredients and home-cooked methods to make it easy for consumers to experience delicious, regional Indian flavors at home, and her products are now available in over 7000 stores nationwide.
Advice: "Don't over-innovate. Start with just a few products and prove out your concept at as many stores as possible before branching out into other product lines. Limiting the number of products you sell initially helps you focus on learning the nuts and bolts of the business, rather than dreaming up new ideas and figuring out how to commercialize them. Innovation is distracting."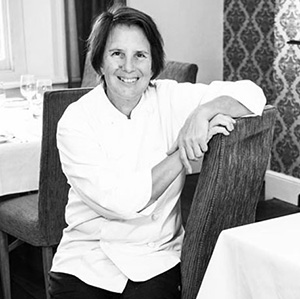 Kate Lamont, Founder and Chef of Lamont's
Location: Western Australia (various locations within)
About: Kate Lamont, one of Western Australia's most successful chefs, best-selling cookbook authors and active food and tourism industry advisor, has been looking after heritage-listed Bishops House as an A La Carte Restaurant, Wedding, Functions and Private Dining venue for almost a decade. With more than three decades of experience in the wine, food and tourism industries in Western Australia, Kate has overseen the development of her family's business from a tiny one-person farm to an integrated food and wine group with 80+ employees.
Advice: "Stay positive, kitchens are tough environments. The intense pressure of service and constant striving for consistency and quality can be hard work. Hold your nerve and always remember the enjoyment you bring to customers. Celebrate your wins – even the simple ones!" "Don't sweat the smalls. Things do go wrong and finding a quick, effective solution is the best approach. And so, don't dwell on the tough moments and mistakes. Learn from them and always be looking to improve."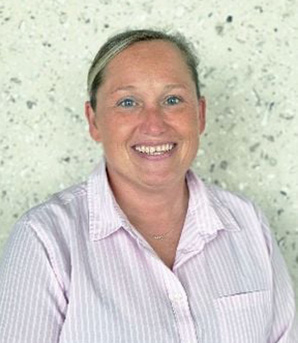 Marya Moore, Director of Food & Beverage, The Westin Hilton Head Island Resort & Spa
Location: Hilton Head Island, South Carolina
About: Director of Food & Beverage Marya Moore leads the culinary experience at The Westin Hilton Head Island Resort & Spa, bringing over two decades of hospitality and management experience. Originally from Massachusetts, Moore established herself in the culinary industry with a variety of positions working in resorts and hotels, including 23 years with Marriott International where she held positions including Director of Restaurants, Executive Chef and Executive Sous Chef. A seasoned hospitality professional, Moore leads by example and empowers her team to create engaging and detail-oriented experiences for guests that will make a lasting impression at the hotel's five on-site restaurants. Moore currently resides in Hilton Head Island with her partner Shannon and their beagle-boxer mix, Jaxson, and enjoys kayaking, paddleboarding, and cheering on all of her favorite Boston sports team when she's off the clock.
Advice: "One of the biggest challenges I have faced is being a female in a male-dominated field; it takes a variety of skill sets to navigate leadership roles in this setting. I have found that it is important to learn about everyone on your team because understanding cultures, backgrounds and recognizing differences allows you to be a more open-minded leader. Above all else, it is also very important to trust your instincts. Oftentimes you are faced with difficult situations and decisions, and it is so important to make the right call. Having that confidence is not easy in the fast-paced hospitality industry, but confidence in yourself and the ability to trust your decisions will make you that much more successful and experienced."