Ep 192: Opportunity is Fickle: Maximizing Your Restaurant's Sales
publication date:
Apr 14, 2023
|
author/source:
Roger Beaudoin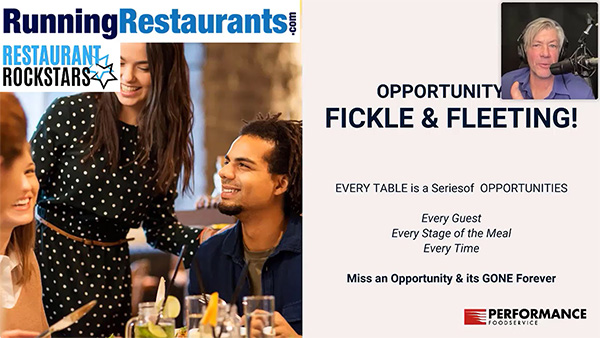 I've done this walkthrough with Roger before in our webinars...
And every time I'm reminded of the staggering amount of money left on the table by most restaurants!!!
You've got a CAPTIVE AUDIENCE eager to BUY...make sure your staff is taking full advantage of every sales opportunity...
Your bottom line will thank you for it...

Subscribe / Follow / Like the Podcast at YouTube or iTunes to not miss an episode. Drop us feedback via email, Facebook, or Twitter.

Or listen here...


Be sure to check out these resources from Roger...


Episode Sponsor: Zinch




Show Notes...
**********
In this podcast episode, Roger Beaudoin from RestaurantRockstars.com discusses how to increase sales and capture hidden opportunities in your restaurant. He emphasizes the importance of educating, informing, and entertaining customers to create a positive experience that leads to increased spending. Beaudoin encourages restaurant owners and managers to approach each day and every table as a series of opportunities to capture sales and maximize profits. He warns against relying on order takers and missing out on potential upsells and add-ons that can significantly increase revenue. Beaudoin also shares his insights on how to deliver a memorable dining experience and increase sales in restaurants by offering choices to customers.

Episode Timestamps...
**********
**Introduction [00:00:00]**
Jaime introduces the podcast episode and the guest speaker, Roger Beaudoin.
**Captive audience and increasing sales [00:00:57]**
Roger Beaudoin discusses how the restaurant industry has a captive audience and how educating, informing, and entertaining customers can increase sales.
**Opportunities in the restaurant industry [00:01:42]**
Beaudoin emphasizes the importance of approaching every day as an opportunity and not missing out on potential sales.
**Hidden opportunities [00:02:29]**
Beaudoin uses the analogy of an iceberg to explain how there are hidden opportunities in the restaurant industry that staff may miss, such as upselling and add-ons.
**Maximizing profit [00:04:09]**
Beaudoin discusses the importance of knowing the most profitable items and suggesting them to customers, as well as selling bottles of wine, desserts, coffee drinks, and retail merchandise.
**Live music and events [00:06:21]**
Beaudoin suggests that live music and events can keep customers in the restaurant longer and increase sales.
**Increasing Sales [00:07:02]**
Tips on how to increase sales and deliver a memorable experience to customers, including avoiding yes/no questions and offering choices.


Link: RestaurantFormula.com