Futurizing Restaurants with Ambient Technology
publication date:
Aug 17, 2021
|
author/source:
Savneet Singh


Scan through your favorite restaurant rag, site or blog and you'd think that technology has become the savior for the restaurant industry. Gone are the days of great service and food and in are the days of fancy tech. Nothing could be further from the truth.
While restaurant technology companies have grown tremendously, their success has not necessarily led to the success of the customers they serve. In fact, I'd suspect that on average restaurant operators, those on the front lines, have found technology to become a wedge between them and their customers. Technology has led to their relationships becoming transactional vs personal and their food changing from a meal to an "output" of some technological design.
At its essence technology should serve its users in the same way that a restaurant serves its guests. Technology should be at the will of its users and not the other way around. Today, technology has driven a wedge between the guest and the brand.
How did we get here?
We asked for it! Consumers now expect restaurants to offer the same tools they get from their favorite ecommerce stores. Suddenly, restaurants went from focusing on their teams, food, and guests, to now having to also focus on their mobile app, online site, third-party delivery technology, driver management and so much more. To serve their customers, restaurants stretched themselves to buy disparate products that were never meant to work well together. As a result, they've been left with integration spaghetti and now find themselves farther from their guests than when they started. Behind the scenes, many food establishments are using upwards of ten pieces of technology just to facilitate basic in-person dining and accommodate their multiple delivery app partners.
But this is normal. Remember your first computer, your first iPhone? All of a sudden, we went from a phone to a supercomputer in our pockets and things got a bit messy. Over time however, the industry evolved to add real value to our lives. I think we'll find the same with restaurants someday soon.
Where do we go from here?
In time, I believe the answer to this challenge will be platform-built solutions (read: natively integrated/able) that power ambient technology. My hope is that technology becomes just part of our interaction without any real change in traditional order flow. Imagine walking into your local restaurant and that store immediately accesses your loyalty data to provide you with an elevated experience. Imagine never having to take out your wallet, your loyalty cards, your apps, and phone - and having the menu customized to your allergies, the kid's menu for your kids and complete flexibility around your time and engagement with a server. No credit card, no phone needed.
The goal would be for the technology to become completely ambient where it enhances the connections between restaurant and guests.
Convenience-Forward Concepts
The pause in restaurant dining, coupled with lengthy stay-at-home orders, sparked a massive shift to convenience-forward experiences. Without the familiarity of banter with bartenders and cozy bar stools drawing customers into their local haunts, customer mindsets shifted to demand convenience above all else. Initially, restaurants were quick to adopt third-party ordering tools to reach their customers when their own infrastructure did not allow them to manage deliveries. Ever since, restaurants have increasingly adopted in-house technology to streamline online ordering, offer contactless payment options, and provide seamless pickup and delivery services to make the experience as easy as possible.
The shift to convenience is ongoing. Quick service restaurants (QSR) are already changing what pickup looks like. For instance, Taco Bell's "Go Mobile" concept prioritizes convenience with app-based ordering methods, a Dual Drive-Thru for pickups from app-based orders, and curbside pickup to reduce the need for customers to leave their vehicle and go into the store. The pandemic may have accelerated innovation to enhance convenience, but now that customers have grown accustomed to these enhanced services, the demand for convenience is here to stay.
Hyper-Personalized Experiences
Restaurants are going to soon transition from measuring their profitability on a per store basis, to a per customer basis. As digital orders grow, attribution of that order becomes more complicated. When a customer orders from an app or online, who gets "credit" for that order gets more complicated. Does credit go to the closest store? The store that originally acquired the customer? The store that delivered the order (if not the closest store)?
This change will lead to an incredible amount of future investment around truly personalized experiences to maximize the lifetime value of each individual customer. This will lead to a mutually beneficial relationship for both the restaurant and guest. The restaurant will be able to build its relationship to the guest and the guest gets the benefit of personalized experiences.
Ambient Technology is the Future of Restaurants
Technology is not a panacea, particularly in its growth phase. While technology has led to tremendous change in our industry, it's still very early in providing real value back to our operators. That impact is coming soon.
As the disparate solutions come together in platforms, we'll see a movement to experiences vs solutions. In time, these experiences will become truly ambient where the guest does not see, hear or touch technology, but they experience it.
Rapid adoption of technology is paving the way to a dining experience that is hyper-customized to each individual diner - so seamless that customers barely notice the tech that is powering it - but it is not as simple as it sounds. Establishing and building trust with customers is imperative to a restaurants' ability to elevate customer loyalty and benefit from ambient technology. Many diners are already familiar with providing businesses some level of personal information in exchange for convenience. After all, saving preferred payment methods, like credit cards, to an app takes a level of trust.
Innovative technology can go a step further to create hyper-personalized experiences. By having customers consent to sharing limited personal information with a dining establishment, technology becomes ambient, and customers benefit from heightened convenience and personalized services.
The restaurant experience may have evolved, but at the core of customer expectations is a desire for convenience and personalization. Customers want their needs met without having to give much thought to how they came to a decision. Whether ordering from a tableside QR-code or an online ordering system at home, it is critical that customers feel seen, heard, and understood. Not everyone will be comfortable returning to restaurants just yet, but everyone should still receive the quality of service offered by their favorite server - even when ordering through an app.
---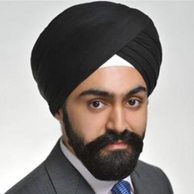 Savneet Singh is the President & CEO of PAR Technology Corp, an open-platform solution offering a unique set of hardware, software and services that help restaurants connect their customers with the meals and moments they love.