Overcoming the Challenges of the Restaurant Industry Labor Shortage
publication date:
Jun 16, 2021
|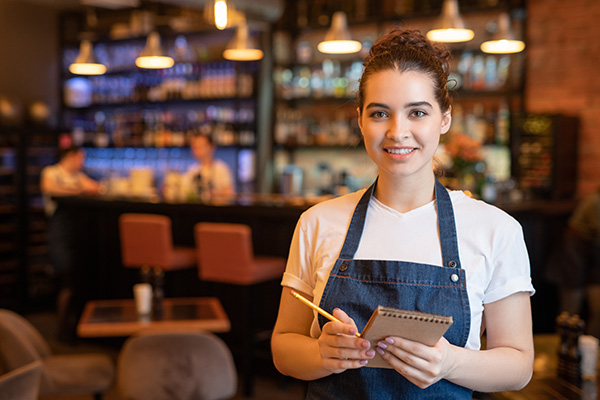 Even before COVID-19, restaurants struggled to attract and retain reliable workers. Work in food service has always been difficult, high-pressure, and demanding. With typically low wages and few benefits to compensate, it's no surprise that the industry developed a poor reputation and high turnover rates in the years leading up to the pandemic.
Now, as businesses start to reopen their doors to customers, they're finding that conditions have worsened. Many former employees have left the industry and aren't interested in returning to their old jobs. As a result, the talent pool is smaller and more competitive than ever, and many food service operators simply can't find necessary staff to fill essential roles. And there's no indication that the restaurant industry labor shortage will be letting up anytime soon, either.
Fortunately, with a little hard work and creativity, there are ways to move forward. In this guide to dealing with the labor shortage, we'll first explain how the labor shortage affects restaurants and food service operations. Then, we'll lay out 4 tips for overcoming those labor challenges. We'll also cover a few things to avoid or be careful about as you adjust your strategies.
How the Labor Shortage Affects Restaurants and Food Service Businesses
COVID-19 forced many food service operators to let go of workers, and many of those workers have since moved on to jobs in other industries. Because of that, operators are now having to re-open short-staffed. Here are some of the main ways this affects business:
1. Negative impact to guest service. Fewer staff members on-hand may mean longer wait times and poorer service for customers. To avoid negative reviews, it's best to be up front with your customers if you anticipate being short-staffed. Ask them to be patient with you as you work to deal with the problem.
2. Fewer sales and smaller profit margins. Because your limited staff likely won't be able to keep up with normal demand, be prepared to serve fewer customers and make less in overall sales.
3. More time spent recruiting and training. You'll need to get creative and spend more time trying to fill those job openings. Many of your new hires will likely be completely new to the industry, so you should also expect to spend more time training them in the basics.
If you operate a food service business and plan to reopen soon, these are some of the difficulties you can expect to face. But they're not insurmountable. Below, let's look at some things you can do to overcome the challenges of the restaurant industry labor shortage.
How to Overcome the Challenges of the Restaurant Industry Labor Shortage
Now that we've covered the problem and its symptoms, it's time to look at solutions. Some of these will be short-term band-aid fixes to get you through the moment. Others are going to require long-term thoughtfulness and change.
Here are 4 tips to help you deal with the restaurant industry labor shortage:
1. Do everything you can to retain and engage your current workforce.
Do all you can to retain your current staff. It's simply much easier and more cost-effective to retain your current employees than to hire and train new staff members, especially when there's heavy competition for new hires.
Employee engagement is vital for retaining staff, so check in with them frequently and make sure they feel heard. You should also think about perks and benefits you can afford to offer and that your employees will appreciate, whether it's a bump in pay or free meals for the family.
Lastly, find ways to make the job fun and rewarding, and give the team a pat on the back after a hard day's work. The internet offers a wealth of ideas and examples for games, activities, and contests that can increase employee engagement and retention.
2. Think outside the box for your next hiring campaign
After you've done everything you can to engage and retain your staff, use social media to advertise your job openings across a wider audience. You can also use sign-on bonuses and referral programs to attract new hires to your business. But this only works if your employee morale is good, and if your business has a positive reputation.
If you treat your people well and make them feel valued, they'll not only be more likely to stay, but they'll be more likely to help you get the word out. If you don't take care of your people, then your efforts over social media could backfire, and you could just end up wasting valuable time and dollars on sign-on bonuses that go nowhere.
3. Hire for soft skills and up your training game
When hiring, look for someone with a track record for being reliable and a team player, even if they have no restaurant or food service experience whatsoever. Soft skills and a good attitude are far more important than whether someone's ever taken a table order or worked a lunch rush. It's a lot easier to train employees on the latter than the former. On the other hand, a server with a poor attitude could bring down the team's morale and worsen the reputation of your business.
Since many new hires have likely never worked in the hospitality industry before, it's important to have a solid training program in place to get them up to speed. Be prepared for a higher volume of new or untrained staff, and get your tribal knowledge down into a format that's easy to consume.
4. Utilize your current workforce well, and make sure everyone gets enough time to rest and recharge
Because of the labor shortage, everyone on the team is going to have to work even harder than usual. Not only should you make efforts to retain your current staff, but you should also make sure your staff are scheduled efficiently and according to anticipated demand. By scheduling more efficiently, you can more easily ensure that employees receive adequate periods of rest, so that they don't get burnt out by a hectic work environment.
Technology can help. Smart scheduling software with integrated sales forecasting can accurately predict your labor needs and generate your staff schedules in advance. This will help you cover your labor needs much more efficiently. A good software can also build in rest breaks and periods of time off, both of which will help keep your staff from burning out.
If your staff shortage is extreme, you may also need to consider adjusting the hours of your business temporarily to allow your current staff more time to recuperate. It's a stop-gap measure, but it's one that can help get you through a difficult time while you search for new hires to fill vacant roles.
Takeaways on the Restaurant Industry Labor Shortage
Work in the food service industry is and has always been high-pressure, difficult, and demanding. The pandemic may be coming to an end, but the restaurant labor shortage is still in a critical stage. That's why it's time to start thinking long term about what you can do to make your business a more appealing place to work. You need to be able to compete for talent in ways that you probably haven't before.
Remember: whether they're line cooks or front of house staff, if your employees don't feel valued and appreciated, they'll go somewhere they do, and your competitors would probably be glad to have them. Employee engagement is one of the cheapest and easiest ways to retain your staff and reduce turnover. For that reason, it's a good place to start making long-term changes that will help your business not only survive but thrive.
---

By TimeForge: TimeForge is a labor management software suite designed to meet the challenging demands of the restaurant and retail industries. The feature-rich yet user-friendly suite offers scheduling, communication, time clock, human resources, automated compliance, payroll, and sales forecasting capabilities. TimeForge is affordable, easy-to-use, and serves both independent and chain operations in restaurant, grocery, retail, hospitality, and other industries. For more information, visit https://timeforge.com or follow @timeforge on Twitter.