Restaurant Leasing Tips (Tips 16-20)
publication date:
Jul 14, 2021
|
author/source:
Dale Willerton & Jeff Grandfield

For many restaurant tenants, negotiating a good lease or lease renewal against an experienced agent or landlord can be a challenge. While a restaurateur focuses on preparing and serving high quality food and drink menu items, savvy real estate agents and brokers are specialized sales people. Their job is to sell tenants on leasing their location at the highest possible rental rate.
Whether you are leasing a new location for the first time or negotiating a lease renewal for your restaurant, here are some money-saving tips for our book, Negotiating Commercial Leases & Renewals FOR DUMMIES:
Meet the Property Manager
The property manager is usually available to personally meet you if the landlord is not available. Most lease agreements are negotiated through the landlord's leasing agent. When the deal is done, you will begin working with the property manager. Try to meet with the property manager before signing the deal. Ask them about their experience and their working relationship with the landlord. Confirm any verbal promises (made by the realtor) with the property manager. Your relationship with the property manager is important enough to start cultivating in advance.
Who Makes the First Offer?
Whether you are looking at a new lease or a lease renewal, it is best if the landlord makes the first proposal. Write a brief letter to the leasing representative or property manager requesting a written proposal within ten days. If you make the first renewal offer, this implies that you are staying - and thereby undermining your negotiating strength.
Never Just Accept the First Offer
Even if an Offer seems reasonable or you have no idea of what to negotiate for, never accept the leasing agent's first offer. The first offer or rental rate, more often than not, is inflated. Many agents use a strategy of starting negotiations at a higher rate that allows them some room to give in slightly. The Lease Coach frequently completes lease agreements 15 to 25% less that the agent's opening offer. In one case, the rental rate came down from an asking rate of $8.00/psf to under $3.00/psf just because we were willing to negotiate for our tenant client.
Ask for More Than You Want
We remember one tenant coming to us hoping that we could negotiate a $500/month rent reduction for her business. During the ensuing months, we met with her landlord and insisted upon a $1000/month rent reduction. Eventually, our efforts paid off in the form of an $800/month rent reduction (or approximately 25% less than what we had asked for). Ask for more than what you want or need when negotiating other items too - free rent, signage, parking, leasehold improvement money, and so on. The worst the landlord can do is say "no"!
Need Vacancy Protection?
If a proper tenant mix and traffic flow is important to you, then you may need vacancy protection. Look around the property and ask yourself - would it adversely affect my restaurant if any one of these tenants moved out of this building, or if the property was 30% vacant or more? For restaurants, this can be especially important if one of the property's anchor tenants relocates. Therefore, you should negotiate in advance for an automatic rent reduction or even the right to terminate your lease should the tenant mix or occupancy rate be compromised to your restaurant's detriment. This can be especially relevant if a grocery store or department store anchor leaves the property.
For a copy of our free CD, Leasing Do's & Don'ts for Restaurant Tenants, please e-mail your request to JeffGrandfield@TheLeaseCoach.com.
---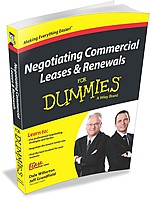 Dale Willerton and Jeff Grandfield - The Lease Coach are Commercial Lease Consultants who work exclusively for tenants. Dale and Jeff are professional speakers and co-authors of Negotiating Commercial Leases & Renewals For Dummies (Wiley, 2013). Got a leasing question? Need help with your new lease or renewal? Call 1-800-738-9202, e-mail DaleWillerton@TheLeaseCoach.com / JeffGrandfield@TheLeaseCoach.com or visit www.TheLeaseCoach.com.