Trends in the Food Industry for 2021
publication date:
Jan 19, 2021
|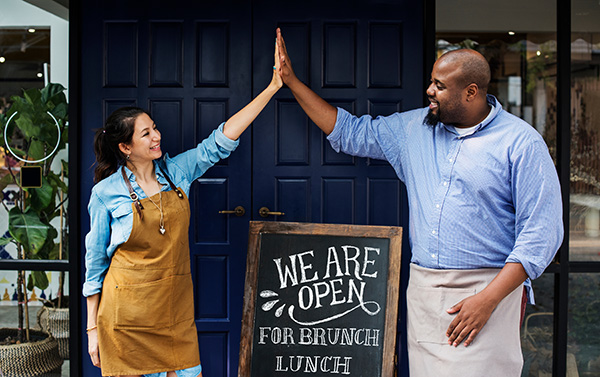 FOODWORKS, a rapidly growing restaurant incubator that creates community through food, has been on the forefront of the industry. The Chicago-based company observes changes in the industry from its front-row position and has identified the following trends that they anticipate impacting the way people consume food and beverage in 2021 and beyond.
Across the country, more than 110,000 restaurants have closed as a result of the ongoing COVID-19 pandemic and resulting restrictions to indoor dining. This means that there are fewer socially distanced dining options that don't involve at-home cooking or delivery, fewer restaurants for consumers to choose from, and more and more local business owners and employees out of work as a result. As a result, one of the most important trends that has helped to keep the industry afloat and positioned many for a rebound is the concept of people helping people.
1) Industry Collaborations
As part of the global food service leader, Compass Group, creating and supporting community through food is at the core of the FOODWORKS business model, which places an emphasis on partnerships with local restaurants and bringing them to unique dining venues, office venues, office buildings, universities, and more. Entering 2021, FOODWORKS predicts the industry will continue to come together in support of one another to combat these economic downturns through innovative restaurant partnerships, chef collaborations, ghost and virtual kitchens, take-out and delivery options, attention to food safety, and more.
2) People Helping People
Now, more than ever, guests are looking for convenience and contact-free dining experience where they don't have to compromise their ability to have great food from beloved local restaurants. FOODWORKS' goal is to deliver on a fantastic meal, cup of coffee, or afternoon snack that makes consumers feel good about helping small businesses in the communities in which they thrive.
In action: the 2020 launch of Market Cafe powered by FOODWORKS, a first-of-its-kind model that gives local restaurants, many of whom who have been impacted by a downturn in business due to the pandemic, the resources and support they need to expand their audience through a brick and mortar location where their restaurant branding and cooking are at the forefront. The unique program, coined Apron Exchange, spotlights a rotating selection of diverse restaurant partners and offers guests the benefit of having an array of delicious local food and beverage options available at a prime location all under one roof. Freshly prepared grab-and-go sandwiches, salads, and artisan baked goods are also available for guests on the go, providing a personalized yet contact-free-friendly dining and retail experience.
3) Contact-less options
With a global pandemic ongoing, consumers will look for ways to limit in-person interactions, especially with strangers. In 2021, we will see more restaurants using Apps to offer contactless dining experiences and create a smooth flow for diners, from menu perusal through taking that first bite.
In action: A completely contact-free and cost-effective dining experience, guests of FOODWORKS' Market Café in Chicago can order through a single mobile app, whether they want to enjoy made-to-order meals or select from a variety of grab-and-go menu options. The app also allows guests to scan, pay and leave, without ever interacting with a cashier. In addition, it provides the option to order and pick-up items from a designated shelf to easily maintain necessary social distancing. Beyond the contact-free environment, the new technology helps manage the café's capacity to make social distancing easy for everyone who arrives.
4) Food Safety and Transparency
Health is top of mind. In 2021, safety and quality standards will give customers peace of mind.
In action: FOODWORKS' consumers can take confidence knowing that each restaurant partner must adhere to stringent safety practices and quality standards. Prior to serving guests in all FOODWORKS locations, chefs and staff of each featured restaurant must participate in food safety, sanitation and hospitality training programs designed in consultation with some of the nation's leading health and safety experts.
5) Diversity in Dining
More important than ever, there is a real need to support minority businesses due to the effects of the pandemic.
In action: FOODWORKS partners are neighborhood restaurants and women- and minority-owned businesses that share the same commitment to quality, sustainability and community involvement. Over 95% of partnerships are local, with an estimated one-third minority owned and one-fourth woman owned.
6) The Dilemma of Delivery
What is the benefit of the above business model? It has been reported that delivery providers can cost consumers up to 40% more and the restaurant up to 30% more. As consumers are spending more time at home, the modern convenience of delivery has been a nice-to-have. It does not, however, ultimately support the restaurant or the consumer in a cost-effective way long-term as the third party collects a much larger commission for their added service. With a vaccine on the horizon and our inherent needs as social beings for human interaction, companies that look for ways to build the industry up by partnering with one another in a mutually beneficial way are bound to succeed through the memorable guest experiences they are able to provide.
By offering personalized yet contactless dining experiences, companies can deliver the peace of mind needed to consumers in this uncertain environment. Partnering with leading health and safety experts can better position your company as a reliable and abiding operation. For example, prior to serving guests in all FOODWORKS locations, chefs and staff support one another by participating in food safety, sanitation, and hospitality training designed in consultation with some of the nation's leading health and safety options. From mobile app ordering to self-scanner capabilities, consumers are presented with a slew of new options to scan, pay, and leave without ever interacting with a cashier.
Link: FOODWORKS