Understanding Guest Satisfaction + 5 Tips to Improve It
publication date:
Aug 23, 2022
|
author/source:
Megan Prevost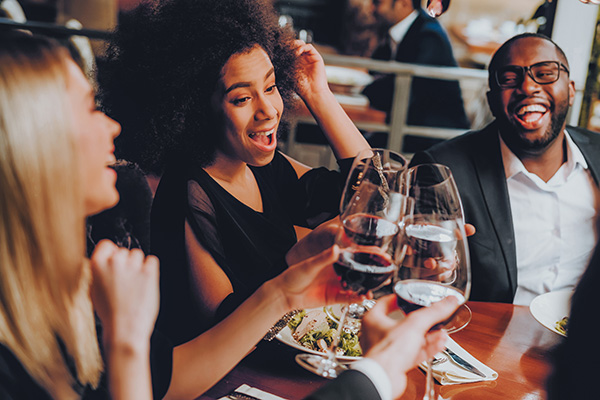 When all's said and done, any food and beverage service industry business is driven by guest satisfaction. Nothing is more important than consistent satisfaction for your guests; your business will very literally live and die based on its reputation for providing good experiences. "Guest satisfaction" is a broad term, and to pursue it, you'll need a clear path to success, so it's essential to start with a clear definition.
What's Guest Satisfaction?
The words themselves are pretty straightforward but placing them in context matters here. For your purposes, guest satisfaction breaks down to a few key points:
A positive service experience. No matter how a potential guest finds their way to you, it's likely that customer service is going to be their first point of contact with your business. A first impression is hugely important, and the folks working in your business usually create that first impression. As a metric for guest satisfaction, though, customer service must be consistently positive. Knowing that "the folks who work there are so nice" is a big draw when considering your business for dinner, drinks, or an afternoon coffee.
Enjoyment of your product. At the end of the day, this is what you're selling. The trappings of your business are built around your product, so ensuring that people enjoy what they're there to buy is the most basic part of your job.
A reason to come back. This is the element that keeps you in business. The first two points combine to create this third. What you're selling and how you're selling it needs to set itself apart from the other options in town. Your business needs to make a consistent enough impact on establishing itself as a permanent option in the minds of your guests. If you dine out often, you probably have a spot that sometimes you can't help but crave. Your goal is to become that spot for the locals.
All this said the point of guest satisfaction is to keep a steady flow of people coming to your business. Satisfied guests are loyal guests, and having a loyal fan base is key to the ongoing success of any local dining spot.
Improving Guest Satisfaction
Knowing what guest satisfaction is composed of, how do you boost it? Anyone can have a dependable or consistent business, but you're looking to aim a little higher. You don't want your guests to be merely satisfied – you're gunning for the position of a local favorite! If you want to push your satisfaction beyond simple enjoyment, try out some of these tips.
1. Make Yourself Approachable
If you're going to shoot for guest satisfaction, you'll have to start with getting guests in the doors. There are all kinds of advertising and promotional opportunities to boost name recognition, but here you're looking to convince them actually to check you out. Have an easy-to-find website with contact info.
Design a clean, attractive menu and add a pdf of it to your website. Post it in the window or a display case next to the front door. The point here is to put the information about your business onto a silver platter. Mystique and atmosphere are great marketing and aesthetic tools, but making yourself visible sets a clear expectation you can deliver on easily.
2. Follow Up On Feedback
Whether you're looking at reviews on Yelp, Facebook, Google, or dining platforms like Resy or OpenTable, your guests will have ample opportunities to speak about their experience at your business. While positive feedback always feels great, you must also pay close attention to negative and mixed feedback. You should view mixed reviews as a great canary in the coal mine.
Try to note common complaints as you read them and pinpoint gaps in your guest experience, be they slow service, weak menu offerings, or technical hiccups like difficulty making reservations. These can easily become action items to work on with your team to polish the overall experience.
Bad reviews have a value of their own, though. It bears mentioning that you should take them with a grain of salt (after all, some people refuse to be pleased), but an honest recounting of a bad experience is an opportunity. If made on a public platform, respond to bad reviews by apologizing and asking them to reach out to you personally. By showing publicly that you take these experiences seriously, you raise your own credibility in the eyes of other potential guests. Whether or not those who leave bad reviews reach out to you doesn't completely matter – what matters here is how visible your integrity is.
3. Keep Things Fresh
Even regular guests can get a little tired of your business if the dining experience becomes rote. If you're trying to deepen guest satisfaction, making your experience consistently interesting is a fantastic arrow in your quiver. Seasonal menu changes, weekly specials, and dining events are obvious choices to make the guest experience dynamic but don't limit yourself to that. Host pop-ups out of your kitchen! If you can incorporate live entertainment in your space without disrupting the atmosphere, do it! Breathing life into and grounding your guest's experiences in unique moments enhances not only overall satisfaction but also creates active memories in the minds of your guests.
4. Incentivize Return Trips
If you're trying to bring people back after positive experiences, there's an easy way to stack the odds in your favor. Loyalty or rewards programs are proven tools to bring people back into your business. If you're using a POS system like Square or Toast, these tools can be incorporated into the transactions with their built-in systems, but don't hesitate to keep things classic.
Stamp or punch cards have worked for decades, and they still do, so print up a stack and hand them out when your staff drops checks! These also work great for unique promotions, like a seasonal special series. If a guest gets enough marks on their card during a series, maybe they win a free dinner or even branded merch! Creating a bigger reason to return beyond the good food will encourage guests to keep coming back, and that repetition creates more context to develop satisfaction.
5. Make Your Team Want it Too
As mentioned above, service is a key ingredient in establishing satisfied customers. There are many steps to ensuring that your team provides good service as they become part of your team, but there's no reason not to incentivize them further. In the short term, you can run contests or provide special recognition when reviews are left mentioning specific people by name. Doing this will push your team to provide better service from night to night, but to make this stick, you will want to ensure that your business is a place people are happy to work. If you can offer benefits or local perks, pursue the option.
Check-in with your staff and routinely explore how you can help them grow professionally or how they feel about work. If your staff is happier, they're more likely to provide good service, and good service produces satisfied guests.
---

Megan Prevost is a content manager for MustHaveMenus. When she's not writing about restaurant marketing, she's hanging out with her four cats and binging the latest television shows. Her work has appeared in All Business, App Institute, Bar and Restaurant, Bar Business, Beer Connoisseur, BevSpot, BiziTracker, Business Opportunites, CLH News, CFE News, FanSided, Fearless Flyer, FSR, Ganjaprenuer, International Bowling Industry, Miss Details, Modern Restaurant Management, Mosaic Solutions, PMQ, QSR, RestoBiz, RestoHub, Site Social SEO, Small Business Currents, The Daily Fandom, Total Food Service, and Wisk.