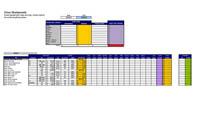 Food and Beverage Inventory and Product Cost Spreadsheets
Description


Calculating your cost of goods sold can be a daunting project. These spreadsheets help you stay organized and on top of your product costs. This download includes a food inventory spreadsheet segregated into separate inventories for all your food purchases, such as meat, seafood, dairy, produce, soft beverages and more. Segregating your food inventory into separate inventories helps you pinpoint a cost problem when you find one. Also included is a separate spreadsheet for alcoholic beverages. Like the food inventory spreadsheet, the alcoholic beverage inventory is segregated into separate inventories for bottled beer, tap beer, liquor of each type, cordials and wine.
All of our inventory spreadsheets have some special features you won't find in other inventory spreadsheets:
Special columns for breaking everything you buy into automatically calculated recipe units and costs. Simply update the inventory value from an invoice, and the spreadsheet will tell you what the recipe unit cost is. Link our Recipe Costing Spreadsheets to these costs to have automatically updated recipe costs every time you update your inventory.

Input par ordering levels for all your inventory items. The spreadsheet will use the information you record from your physical counts to tell you how much of each product you need to order.

Calculate your cost of good sold right in the spreadsheet. These spreadsheets take your inventory counts, and calculate your inventory values in each segregated category, then allow you to input purchase amounts to have your cost of goods sold automatically calculated for the inventory period.
When you use our Food and Beverage Inventory and Actual Cost Spreadsheets together with our Recipe Costing Spreadsheets and our Ideal Food, Alcohol and Tobacco Cost Tracking Spreadsheets, you create a powerful cost control system that can help you save tens or even hundreds of thousands of dollars in your operation.
You can contact Brandon O'Dell with O'Dell Restaurant Consulting to help you set your Food and Beverage Inventory Spreadsheets up by calling 1-888-571-9068.
Product Format: Download - Excel Spreadsheets
Price: $50