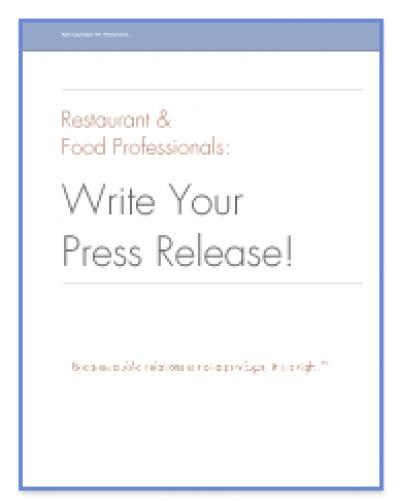 Write Your Press Release
Description
The press release is the single most used document in public relations work. How you write the press release, how you deliver it to media, and how you deal with the media afterward, can make your business busier, better and more successful.


Why do you need to know how to write a press release?
Until now, PR has only been done by the professionals, agents and representatives who require an investment of time and money you may not have to give. Why wait to get your share of the media coverage available today? Start writing and sending out your own press releases today!
Whether you use a press release to alert the media to an event, or simply to inform–as in, 'we have a new menu, a new product, a new customer base,' or 'we've developed a new technique that will impact business – or to get some sort of response, say because you have breaking news of an urgent nature, there is a right way to approach it, and that's what we are covering in RESTAURANT & FOOD PROFESSIONALS: WRITE YOUR PRESS RELEASE!
Buy the book now, and you will learn:
What to write about
Who receives a press release
Writing, distribution and follow up
Plus receive tips on writing, samples to follow, and when to use a Media Alert.
Start communicating with media today!
Book Format: PDF

MEMBER ONLY DISCOUNT
The Member-only discount on this product is 10%