3 Restaurant Employee Engagement Pitfalls and How to Solve Them
publication date:
Dec 14, 2017
|
author/source:
Dan Harris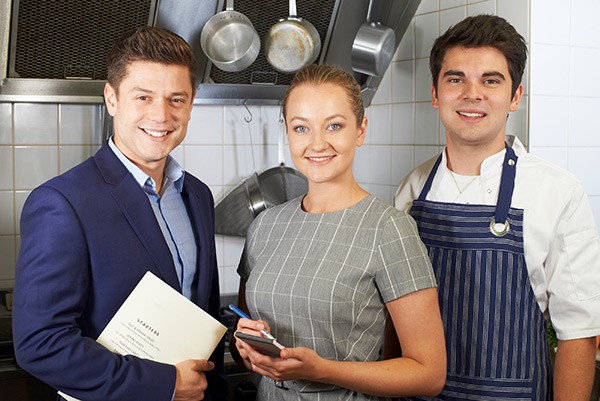 Restaurant owners and leaders take on immense pressure every day, all year round. From the ebb and flow of the economy and the challenges of being customer-focused, to employee retention issues and even the effects weather has on business, nobody claimed it's an easy field to be in.
However, even with all the challenges that restaurant leaders face, about 92 percent of restaurateurs said they are optimistic about their sales in 2017 and 86 percent believe the success of their business is in their control, according to Toast's Restaurant Success in 2017 Industry Report.
As with any business, there are pitfalls holding restaurant leaders back from reaching their true potential. Although they can't control the economy, customer's attitudes, or the weather, there is a way to conquer one major restaurant concern -- employee engagement.
Here's how you can tackle the three major pitfalls of restaurant employee engagement:
Challenge #1: Shifting labor costs and regulations
Constantly changing labor costs and confusing legislation makes the restaurant landscape challenging to navigate. Every day throughout the country, restaurateurs and managers deal with the hazardous combination of employee shortages and increased minimum wages.
Many employers are tackling this challenge by increasing wages to both attract and retain talent. Unfortunately, not every business can afford to compete beyond the new minimum wages. Aside from that, sometimes increased wages aren't enough to increase employee engagement -- especially in a competitive field like the restaurant business.
Solution: The restaurant business is full of uncertainties. Give employees something concrete to look forward to by letting them know your leaders have the ability to lead them to future success. In fact, according to Quantum Workplace's Engaging Restaurant Employees industry report, trusting senior leaders to lead the company to future success ranked as the second driver of engagement for restaurant workers.
Take a stand from the top down by training and encouraging local management to discuss daily operations and major changes with employees. The more each employee understands about what's happening behind the scenes, the more confidence they'll have in the future.
Challenge #2: Difficulty recruiting and retaining quality staff
Your business is full of unpredictable employees.
Some have made the restaurant business their home and others know they only want to be there temporarily. Unfortunately, this makes recruiting and retaining quality staff a major challenge. According to the previously-mentioned Toast report, about 46 percent of restaurant owners agree that hiring, training, and retaining staff is their biggest challenge in 2017.
As the economy improves, the competition for talent is only going to increase. In return, hiring, training, retention, and employee engagement struggles will become even more challenging.
Solution: Restaurant employees are like anyone else -- they want to be taken seriously. In order to do this, leaders need to focus on the number one employee engagement driver, according to Quantum Workplace's previously-mentioned report: allowing workers to use their strengths.
This means not only knowing what their strengths are, but putting them to good use. Start by getting to truly know your employees. Find out what their passions are, where they hope their career goes in the next five years, and if they like their current role. Be flexible, give them options, and help show them that their strengths are needed for the restaurant's success.
Challenge #3: Training exceptional customer service
Anyone who knows people who've worked in the restaurant business has heard horror stories about customers. But the customer is always right -- right?
Well, for the 46 percent of employers who name training as their biggest challenge, customer service and the rise of fast-casual restaurants could be to blame. Everyone is expecting quality customer service along with a one-of-a-kind and fast dining experience. This means you need friendly, efficient, and multi-skilled staff members.
Solution: Training for customer service is, of course, focused on the customer. However, a great way to show employees what friendly, respective hospitality looks like is by flipping the tables. Offer your team recognition, the number three driver of engagement according to Quantum Workplace's report, when they go above and beyond the call of duty.
By showing them you recognize their hard work and efforts, you're also motivating them to put their best foot forward. Employees who feel valued will be more likely to find new ways to provide the ultimate customer service experience.
---

Dan Harris is the Workplace Insights Analyst at Quantum Workplace, a company dedicated to providing every organization with quality engagement tools that guide their next step in making work better every day.