Ep 189: How to Hire, Train & Retain BOH Employees
publication date:
Mar 23, 2023
|
author/source:
Jaime Oikle with Chef Steve Konopelski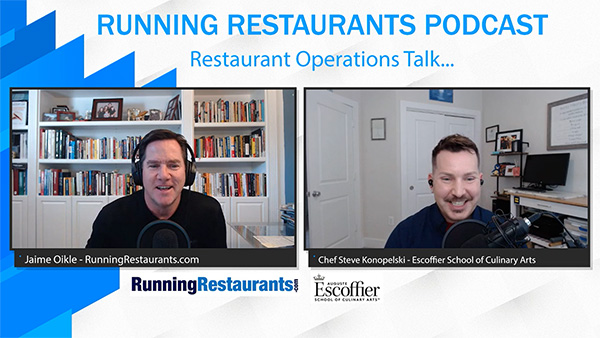 Such a timely and important topic...
Join me for a great chat with Chef Steve Konopelski of the Auguste Escoffier School of Culinary Arts about BOH staff. How to find, hire, train & retain. It's an excellent collection of tips for any restaurant operator or chef to follow for growing their team effectively.
Chef Steve has appeared on the Food Network, had his wedding cakes featured in Martha Stewart Weddings, Brides, and The Knot and owned a Bed & Breakfast plus a bakery.
Chef Steve is a current Chef Instructor for Baking & Pastry Arts at Escoffier School of Culinary Arts. He has extensive experience in the restaurant industry and won numerous awards including: Best Chef on the Eastern Shore of Maryland 2017, Best Dessert on the Eastern Shore 2016, Winner and Recipient of a $25,000 prize - Haunted Gingerbread Showdown on Food Network, 2018.
We hit on a lot about hiring, training and retaining BOH staff, including...
Interviewing tips from both sides of the table
Tips for finding & retaining staff
Why it's important to "Be unapologetically you!"
The power of looking for teachable moments when training/interviewing kitchen staff
Why getting to know candidates as a human first is so important
Finding out what else they bring to the table beyond kitchen skills
Big intangible skill: Having high level of awareness as to what is happening around you
Pro tip: Let folks know how important and valuable they are on a regular basis
The "We not I" philosophy
and more...
Be sure to check out the episode...

Subscribe / Follow / Like the Podcast at YouTube or iTunes to not miss an episode. Drop us feedback via email, Facebook, or Twitter.

Or listen...


Link: https://www.escoffier.edu


Episode Sponsor: Zinch