Top Priorities for Restaurant Employees Plus Insights on Inflation and Tipping
publication date:
Sep 18, 2023
|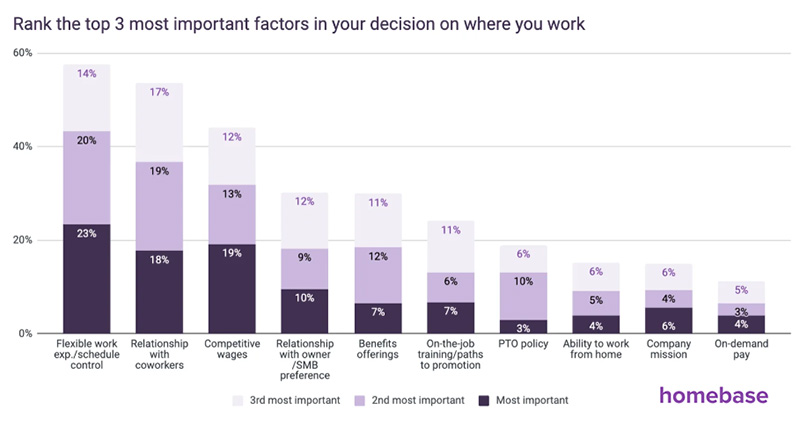 Homebase, the all-in-one team management app that helps more than 100,000 local small businesses manage their hourly teams, released the results from its latest employee pulse survey of nearly 500 hourly workers nationwide, most being restaurant workers, highlighting the top concerns and priorities for small business employees. Top-level findings from the survey include:
Despite historic inflation increases, competitive wages are NOT the top priority for hourly workers. Schedule control and flexibility (57%) and good team relationships (54%) are the two most popular factors for workers in deciding where to work, with wages coming in third (44%).
77% of hourly workers are happy with their jobs. This is compared to only 51% of the American workforce who, according to Pew Research, are highly satisfied with their jobs.
Hourly workers have decreased optimism around future jobs. Despite a rosier outlook from economists, only 34% of hourly workers think their job options will improve in 12 months, which has dropped steadily since July 2022 (42%). Inflation is still top of mind, with 64% reporting being worried about inflation, up from 56% in June 2023.
Hourly workers are still concerned about inflation, despite a rosier outlook from economists. 64% of hourly workers reported being worried about inflation, up 10% from July 2022.
Longer working hours are a growing concern for 23% of respondents (up from 19% in June 2023), which signals to small business owners that seasonal hiring might be necessary to relieve some pressure.
Tips play a critical role in a small business employee's financial well-being. Nearly half of respondents (47%) revealed tips are a critical point of compensation.
Small businesses continue to remain competitive in the labor market by offering opportunities some larger companies can't when it comes to workplace experiences and flexible schedules. Restaurant owners can take these findings and learn how to better support their hourly workers and uplift them in times of unease.
For Homebases' full report, click here...