Restaurant Leasing Update with COVID-19 - Late April
publication date:
Apr 22, 2020
|
author/source:
Jaime Oikle with Dale Willerton


(Recorded 4/22/20)
It had been just about a month since I last interviewed leasing contributor Dale Willerton of TheLeaseCoach.com. Of course, a lot has changed since then and so Dale updates us on the types of conversations that he's having with landlords and clients while also sharing a number of tips for what to watch out for in any negotiations or agreements.
Don't miss these tips -- it could end up saving your restaurant big dollars!!!
Subscribe at YouTube or iTunes to not miss an episode and drop us feedback via email, Facebook, or Twitter.

Or listen...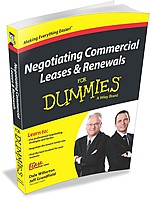 Dale Willerton and Jeff Grandfield - The Lease Coach are Commercial Lease Consultants who work exclusively for tenants. Dale and Jeff are professional speakers and co-authors of Negotiating Commercial Leases & Renewals For Dummies (Wiley, 2013). Got a leasing question? Need help with your new lease or renewal? Call 1-800-738-9202, e-mail DaleWillerton@TheLeaseCoach.com or visit www.TheLeaseCoach.com.