Ep 177: Andy Diamond of Angry Crab Shack
publication date:
Nov 14, 2022
|
author/source:
Jaime Oikle with Andy Diamond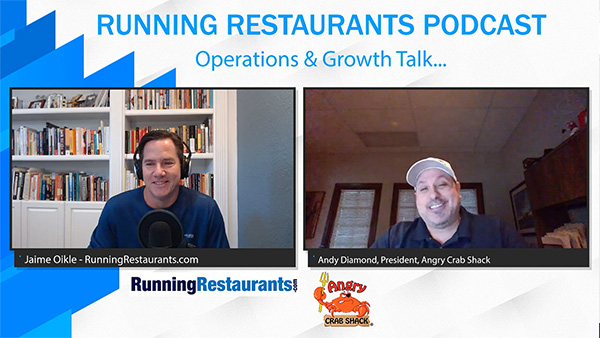 Great indepth session with Jaime & Andy Diamond, President of Angry Crab Shack.
A lot of ground covered in this one including...
How the brand got started
The way the brand's atmosphere plays into their success
How they build fun into the restaurant's DNA
What makes a successful franchise formula
How to bring people in & bring them back
The importance of establishing long-term relationships with local charities
Showing career growth opportunities

Subscribe / Follow / Like the Podcast at YouTube or iTunes to not miss an episode. Drop us feedback via email, Facebook, or Twitter.

Or listen...


Links: Angry Crab Shack & Franchise Info

Or Read...We've made a condensed article version available below...
**********
Andy Diamond of Angry Crab Shack
Andy Diamond, president of Angry Crab Shack joined Jaime for an episode of the podcast. Here is part of their conversation…
Jaime: Andy, tell me about Angry Crab Shack. What's going on?
Andy: Angry Crab Shack will turn nine years old this November. Ron Lou, the founder of Angry Crab Shack and former football player at ASU and in the NFL, had already been in restaurants for about 20 to 25 years. He actually came up with the idea of Angry Crab Shack when he was in the hospital. And he was very angry. That's another way angry comes from it. But he's had great seafood knowledge in the restaurants that he's done. He's also a first-generation Chinese American, so he took his experience in seafood and spices and came up with our signature boil sauces, which really set Angry Crab Shack apart. We have this great menu and great food but also wanted it to be more than just a place where people came and ate. We wanted it to be the ultimate dining experience.
People spend their hard-earned money on food, and we want them to feel like they got more than just a meal out of it. So it's very interactive. There's tongue and groove on the walls where guests can make their mark and sign the walls and sort of take ownership in the place. It's just a very fun atmosphere. If you get something spicy, we're going to let the whole restaurant know about it. If you're there for an anniversary or a birthday, we'll wish you a happy birthday our own way. We won't sing you some song, we'll just scream that it's your birthday, and run a siren and hit the bells and let everyone clap for you. No embarrassing song, just an embarrassing scream.
It got to the point where in our first year or so, our guests took our culture and ran with it and we let them. Why not let your guests tell you what they like about your restaurant? I tell this story a lot. It was the first summer that our first location was open. We're near a high school and this was their summer graduation. And for every student that walked in there with a cap and gown or diploma the entire restaurant just got up and gave him an unprompted standing ovation.
Even though we're growing, we've always wanted to keep that Mom and Pop singular location mentality. So every location that we've done, and we've got 18 open now, has something unique. Each of our franchise owners has a little bit of their own personality within each location.

Baking Fun Into the Restaurants DNA...
Jaime: Your website has a quote, "our passion is to serve delicious seafood to our guests in a fun, sometimes loud, and very casual environment." From what you just talked about it sounds like that is just baked right into the formula.
Andy: Absolutely. So you're walking in. You're wearing a t-shirt and flip-flops if you want to. There are gloves and bibs if you want. There's butcher paper on the table and your table is your plate and your utensils are your hands. So it's very fun. It's very laid back. We were even voted as the best third-date restaurant in Arizona. By then you can see just how disgusting you can be with shrimp hanging out of your mouth with your date to see if you're compatible. But it's the type of place you're going to come to for fun and we're value minded. We've always tried to not sticker shock our guests, so we're okay with having a higher food cost. We want people to come in and enjoy themselves, not be disappointed with their experience.
Jaime: Let's go back in time to your start. I saw somewhere that your first job was as an usher for the Kansas City Royals stadium. So go from there and to how you got to where you are now.
Andy: I was an usher at the K, as they call it. I'm a huge sports fan, and in my senior year, I had the opportunity to become an usher and see every one of George Brett's last home games as a Royal. So that was a great experience. Then I went to school at Indiana University and majored in accounting. From there, I moved to Chicago and practiced intellectual property consulting, which revolved around equating economic damages for patent infringement cases and getting expert witness testimony. Did that for about two and a half years, and then moved to Atlanta in the fall of '99 and took a job with a company called McMaster-Carr, becoming a part of the management group that ran different departments in the warehouse and got a lot of operational knowledge. I really liked the fact that I spent the first couple years doing a lot of analysis and really looking at what makes numbers relevant. Because when you're doing a budget or a pro forma, if you're not using the correct relevant data it doesn't matter what the answer is. Getting that operational and analysis experience was great.
Then, I had a couple of buddies in Atlanta that wanted to get into the restaurant business, and they bought a franchise. About six or seven months into it, they asked me if I wanted to come in and help them out. I said sure, and at age 26 I fell in love with the restaurant industry. I got in it pretty late, but this was the perfect career path for me. About three years later we ended up selling the business and I was ready to move to a new part of the country out west. So I loaded up my car and drove across the country and ended up in Scottsdale, Arizona. Then in 2014, was introduced to Ron Lou, our founder. I remember talking to him about four months into my being there. Crab Shack, the first one, opened in November 2013, and I came on in January 2014 to help them out. I remember telling him, "Ron, you got something here. This is great. Like, just look around, look at the people enjoying themselves. And I think this is something that would work, not just in Arizona, but in other places." So, the next step was to open more restaurants and show that this will work in different neighborhoods, different areas, and different demographics. The next thing I know, it's 2016, and we have six restaurants open and operating. Then the focus became expansion, not just in Arizona, but outside. So we started looking at franchise possibilities. And really started getting serious about franchising in around 2018.

What Makes a Successful Franchise Formula...
Jaime: Thanks for taking me on that journey. Since you just mentioned the franchise piece, I want to stick there. I saw a quote on your website, "we've cracked the code on running a profitable restaurant franchise." Unpack that for a second, because running a restaurant can be very unprofitable if you don't do right. How do you guys think about that formula?
Andy: You want your franchise partners to know they're buying more than a restaurant, they're also buying our process, our book, and the knowledge we gained from the mistakes along the way. The first step is to look at your build-out. We like second-generation real estate because it's going to be less of a build-out. Now, if you can't find second-generation real estate, things are going to cost a little bit more. In our case, we don't need a lot of kitchen equipment. The only thing we require is that you need to have enough freezer space in order to house all the food that you're going to be selling. So, that can really limit expenses. When you look at our decor, it's tongue and groove and paint, so you're not spending a lot of money on frills and lighting either. To us, the fun that you're going to have is what's going to draw you to the inside of Angry Crab Shack.
Then it's about operating. As we've gone on, we've been very good with building long-term relationships with our vendors. When we first started, we were getting our seafood from a restaurant depot, and we had to go multiple times during the week because the big suppliers like Sysco, who we use now, or US Foods, weren't buying big blocks of seafood. I had a good relationship with Sysco and went to them and said, "Hey, we're growing, what can you do for us?" And they started buying seafood in bulk, which just made it so much easier because they were getting good pricing, housing it for us, and delivering it to us when we needed it. As we've gone on with them as we've grown, we've paid attention to the contracts that we have with them. So the contract that just expired with them, we put in a step variable pricing, but also a cap on our king crab and snow crab, because we identified these as two items that could go up in price in a hurry. And as we've seen, they did. The cost of king crab and snow crab are probably up 500% over the last three or four years. So obviously, when you see some of the prices of king crab and snow crab, that's why. But we put a cap on how much margin could be charged based on the price of the seafood. So while it still may be expensive, they couldn't go up above a certain margin. And that's allowed us to keep our prices down. But our franchise partners also get that same deal. So having good relationships with vendors makes a lot of sense. And being loyal to the vendors. We don't like to jump. We won't always be looking for the next best thing. We like to stick with those who have worked with us before, and because there's that trust there, we get that long-term pricing. We're never jumping around to find out where we're gonna get this next product, which has been important obviously with all the supply chain issues.

Bringing People in & Bringing Them Back...
Jaime: I want to talk about the marketing piece. How do you guys bring people in? How do you bring them back in, beyond the experience?
Andy: So a lot of it is social media now, which is great because a lot of that's free. We make sure that our Facebook, Tik Tok, and Instagram are all up to date. And they're fun videos. Sometimes we'll put people in mascot uniforms. When you see something like that, it catches your eye. You also want to showcase what you have, which is the food. So a lot of our videos are cracking open the food and dipping it in our sauce. Just seeing the visuals of the seafood and showing how big the king crab and snow crab meat is coming out, really draws people in. So a lot of it is social media.
Another thing we do is marketing by giving back to our community, which is definitely one of our principles. We do a July promotion every year called "You Dine, We Donate." And for every guest that comes into Angry Crab Shack, we will donate 25 cents to Arizona Housing Coalition, which helps at-risk veterans for homelessness. This is an organization that helps people get driver's licenses, fill out Social Security, and gives them clothes and food. This past July we raised $75,000 for this organization. When you're promoting this, that is marketing, but you're also giving back. Our biggest charitable partner is Phoenix Children's Hospital and on our menu, we have Phoenix Children's fries. And when franchise partners go to other states, they find a children's hospital or a similar charity, and they have their fries. For every order of Phoenix Children's fries, Angry Crab Shack donates $1 to Phoenix Children's Hospital. This year, our commitment is going to be $250,000.
You always hear about a lot of goals to be met. And it's usually about the number of stores or sales revenue. But, one of our big goals has been hitting a million dollars in charitable donations, which is something we will do sometime this year. So in less than a decade, through our guests really, we're going to be able to donate over a million dollars to various charities, with Arizona Housing Coalition and Phoenix Children's Hospital being our two biggest partners. So some of the marketing is definitely in giving back to your community. But, the best marketing you can do is the food and the experience. When guests come in and have a good time, they tell five people, and those five people come in and then they tell five people. So the word-of-mouth publicity you get out of providing a great product with great service at a reasonable price is key.

The People Equation...
Jaime: Yeah, it kind of does the job for you. Let's go to the people side. Labor shortage has been a big deal across the country, I'm sure it is for you. What have you been doing to find and keep good people?
Andy: Just like a lot of restaurants, it's been tough. There were times this year when we had limited hours just because we did not have the staff. Now, this is something that we were anticipating. A big part of running a restaurant is having a plan before it happens. When you're looking at a potential problem that may make a difference in your hours, your sales, or your operations you want to have a plan in place.
During COVID, we were looking at when the increase in unemployment benefits was going to end, which was right around July in Arizona. And we looked at that date and said, "Okay, if we start having more applications coming in, after July 2021, we'll think we'll be okay." Our kitchen operation is streamlined. In general, we don't need a lot of employees to run the restaurant. So it became a lot of working with the team and a lot of the managers and corporate trainers going in there and working. And when employees see that, that tells them these guys care and don't see them as employees that they can kick around. So we're able to keep a lot of our employees.
We've had employees that have been with us for over seven years. We want people to come in and think of us not just as a job, but as a possible career path. It's what they want to do with their life. Like a lot of other restaurants, we increased the pay. In Arizona, the minimum wage was $12.80 already, but we've increased even beyond that to where our kitchen employees are very happy with the amount of money they're getting. But we've also established a 401 K plan that is open to every employee, not just managers, once they meet the six months eligibility requirement. And if they choose not to, they can still be part of the Angry Crab Shack contribution. So Ron Lou and I, in Crab Shack, do a profit-sharing plan, and it goes into the 401Ks of the employees. But even if you don't contribute to a 401 K plan, you are still part of the profit-sharing plan. So the longer you stay with Angry Crab Shack, the more money that Angry Crab Shack will have you share in the profits.
You're always looking to hire, but once you get them in the door you have to treat your employees the same as you treat your guests. When new employees come in, you should walk them around, introduce them to everyone, and make them feel at home. You make sure that they have the training and you're giving them all the tools that they need. You're actually with them and showing them that you're going to help them be successful. So, making those employees want to be part of the Angry Crab Shack restaurant going forward and not just look at it as a temporary job, is important. Keep those employees, that way you're not always hiring and not always turning over.

Growth Opportunities...
Jaime: You just rolled through a really good sequence for anybody to pay attention to. You listed a bunch of reasons why someone would want to choose your restaurant over some other. It starts with pay, but it's culture, it's adding in a 401k, and it's growth and development opportunities. You see so many people job hop, and I think it's because they didn't get that sort of attention and leadership and it's a shame.
Andy: When employees can see it, it makes a difference. We've got three franchise owners right now that started out as servers. One started in 2014, his name is Will Gardner and he started out as a server and worked his way up to General Manager. He left for a year or two to do solar sales and came back for another role in Angry Crab Shack. And we had an opportunity for an operating partner of a franchise and he took that role and bought in. And now he owns part of three different Angry Crab Shack franchises. We have two others, Matthew Prentiss and Josh Arnold who both started out as servers in 2016, and worked their way up to managers. They partnered up with a couple of people and now they own four of their own Angry Crab Shacks outright. So when you can come in as an employee and maybe leave as your own boss, people see that. And that's something people can strive for.
Jaime: 100%. Let's wrap up. Send them to the website where you have more information. Any other parting thoughts you want to share?
Andy: The website is www.angrycrabshack.com. There is a link on the site to get to the franchise info, but if not, it's just angrycrabfranchise.com. You can follow us on Tik Tok, Twitter, Instagram, Facebook, or anything like that. If you've got any questions, honestly, just email me. I try to answer as many questions as I can. Sometimes I get letters from people, and some are good, some are bad, but I always try to give them a handwritten response to let them know that I read it and that I'm responding to them personally. The hope when you go into an Angry Crab Shack is that you feel like it's just a single unit and it doesn't feel like a part of a chain. One thing we always wanted to do as we've grown, is to make sure we've never forgotten who we are. We never operate differently from who we were back in our first couple of years.
Another thing for restaurant owners to think about - Make sure that you're always, in your corporate and your marketing department bringing in younger people that you can mentor and turn into good executives, but who also have fresh ideas. The marketing director we brought in, who was 24 at the time, absolutely exploded our social media and Tik Tok because she was familiar with the things that younger guests want. Never be complacent with just guests that you currently have because as those guests get older, they go out less, they're starting families, and they move away. So you always need to be connecting with new guests.
Jaime: Very good stuff Andy - appreciate it.


Link: Angry Crab Shack
*****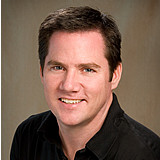 Jaime Oikle is the Owner & Founder of RunningRestaurants.com, a comprehensive web site for restaurant owners & managers filled with marketing, operations, service, people & tech tips to help restaurants profit and succeed.